Hey Creabea's,
Ik kijk best veel films, en ik ga ongeveer eens per maand naar de bioscoop als er een leuke film draait. In deze rubriek deel ik filmtips, variërend van de wat oudere tot de nieuwere films. It's movie time!
1. The Equalizer 2
Robert McCall neemt het recht in eigen handen en komt op keiharde wijze op voor mensen die het slachtoffer zijn van een misdrijf. Hoe ver is hij bereid te gaan als het gaat om iemand waar hij van houdt?
2. The Meg
De duikboot ligt nu uitgeschakeld op de bodem van de diepste geul in de Stille Oceaan met de bemanning nog aan boord. Wanneer de tijd begint te dringen, wordt deskundige diepzeeduiker Jonas Taylor gerekruteerd door een visionaire Chinese oceanograaf, tegen de wil van zijn dochter Suyin. Hij moet de bemanning en de oceaan redden van deze onstuitbare bedreiging: een ruim 22 meter lange prehistorische haai, bekend als de Megalodon. Wat niemand zich had kunnen voorstellen was dat Taylor jaren geleden hetzelfde angstaanjagende wezen al ontmoette. Nu, samen met Suyin, moet hij zijn angsten onder ogen zien en zijn eigen leven riskeren om iedereen die vastzit te redden. Opnieuw gaat hij de confrontatie aan met het grootste en meest gevreesde roofdier aller tijden.
3. The Happytime Murders
In de onderwereld van Los Angeles leven puppets als tweederangsburgers samen met mensen. Een seriemoordenaar heeft het gemunt op de bekende puppets uit de kinderserie The Happytime Gang. Detective Edwards moet noodgedwongen weer samenwerken met haar ex-partner Phil Philips, zelf een puppet, om de lugubere moordzaak op te lossen. Wanneer blijkt dat Phil's ex-vriendin Jenny het volgende slachtoffer is, leiden alle sporen maar naar één dader: hijzelf.
4. The Spy Who Dumped Me
Audrey en Morgan zijn twee beste vriendinnen in Los Angeles die onverwachts verstrikt raken in een internationale samenzwering als Audrey's ex, die een spion blijkt te zijn, opduikt in hun appartement met een team van huurmoordenaars achter zich aan. Tot hun eigen grote verrassing belandt het duo midden in de actie en moeten ze dwars door Europa op de vlucht voor moordenaars en een verdachte maar ook zeer charmante Britse agent terwijl ze een plan maken om de wereld te redden.
5. Crazy Rich Asians
Crazy Rich Asians volgt de in New York geboren Rachel Chu wanneer ze haar vriend Nick Young vergezelt naar de bruiloft van zijn beste vriend in Singapore. Ze is enthousiast over haar eerste bezoek aan Azië, maar ook nerveus om Nick zijn familie te ontmoeten. Nick heeft echter een aantal belangrijke details over zijn leven vergeten te vermelden, waardoor Rachel geheel onvoorbereid belandt in bijzondere situaties. Het blijkt dat hij niet alleen de afstammeling is van één van de rijkste families van het land, maar ook behoort tot één van de meest gewilde vrijgezellen. Haar relatie met Nick maakt Rachel tot een doelwit voor jaloerse jetsetters, maar erger nog Nick zijn eigen afkeurende moeder. Het wordt snel genoeg duidelijk, dat hoewel geld geen liefde kan kopen, het zeker de zaken ingewikkelder kan maken.
6. Searching
Wanneer Margot, de 16-jarige dochter van David Kim vermist raakt, wordt er een politieonderzoek opgezet om haar te vinden. Na 37 uur is er nog steeds geen spoor van Margot en David besluit om op haar laptop te kijken om zo meer over haar dagelijks leven en vrienden te weten te komen. Via haar sociale media ontdekt hij dat zijn dochter veel voor hem verborgen hield. David moet zijn dochters geheimen ontrafelen om haar op te sporen voor het te laat is.
7. BlacKkKlansman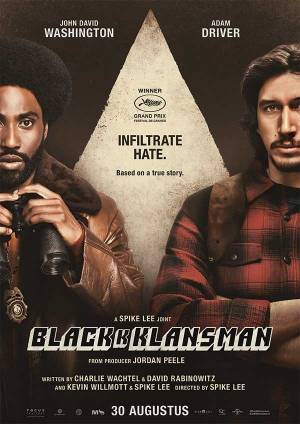 Het waargebeurde verhaal van een Afro-Amerikaanse agent genaamd Ron Stallworth uit Colorado, die er eind jaren 70 in slaagde undercover te gaan in de Ku Klux Klan.  Detective Stallworth en zijn partner Flip Zimmerman wisten tot in de hoogste kringen van de KKK binnen te dringen. Hun doel was de plannen van deze geheime, extremistische organisatie om de macht over te nemen in de stad, te dwarsbomen.
Nestel jezelf op de bank of ga naar de bioscoop, en geniet van deze leuke films! 😀
Liefs, Demi ❤
Volg mij ook op Facebook, Twitter en Instagram (via de linkjes of kijk in de zijbalk)