I finished this game on stream about two weeks ago and I've never come to love a game so much as I've come to love this one. It's in my top 5 of my favourite games, and I'll tell you why! Beware: SPOILER ALERT!
Set in 1274 on the Tsushima Island, the last samurai, Jin Sakai, must master a new fighting style, the way of the Ghost, to defeat the Mongol forces and fight for the freedom and independence of Japan.
You play as Jin Sakai throughout the game, nephew of Lord Shimura. He's a former samurai and later on, as you increase his legend, he becomes The Ghost. Throughout his story, you make allies, who become friends.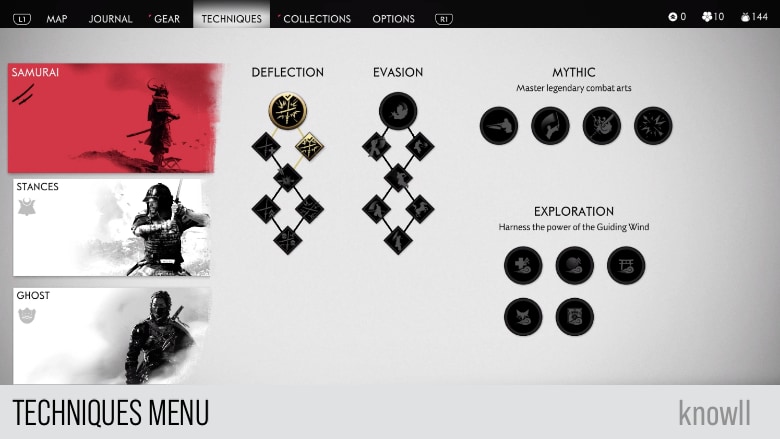 Throughout the game, you get to find many things. When we look at the in-game menu, at the top black bar you see the map. I'll elaborate a bit further on that after this bit. Next to that, you see journal. It's basically the screen where you find all the tales. These are main quests, side quests, and mythic quests. The one after that is gear. Here, you can upgrade your bow, katana, and basically every other weapon you carry with you and use you. You can also upgrade your armour, and many other things that help Jin survive his journey. Next, we have techniques. Throughout the game, by defeating enemies, liberating areas, and completing quests, you'll fill your legend and get to obtain different technique points. There are multiple areas within that, so you'll need one full playthrough to obtain them all. Next, collections. Those are all the shrines, haikus, hot springs, etc. you find. Those are the collectibles. Then you'll also find stuff like steel, bamboo, yew wood, etc. to help you upgrade your weapons and armour.
You fight mostly with your katana, which is a Japanese sword characterised by a curved, single-edged blade with a circular or squared guard and a long grip to accommodate two hands, in case you didn't know. You of course can use your bow and other weapons, like a kunai, too, but you fight mostly with your katana. At the bottom left, you see all those yellow circles. Those stand for your Resolve. When you are in a fight, these can be built up. In case you want to heal or if you want to execute some special intense moves, you can use your Resolve. And below that, the red line is your health bar. At the bottom right, you see two swords. Those are the stances you can take.
There are four stances within the game. Or, actually, five. But, the main ones are as follows: Stone Stance: effective against Swordsmen, Water Stance: effective against Shieldmen, Wind Stance: effective against Spearman, and Moon Stance: effective against Brutes. And then there's the Ghost Stance, which represents what can be considered to be the terrifying "aura" of the Ghost. I do love the stances as they help you defeat a certain type of enemy, yet it's hard to kind of remember what each stance stands for. It's depicted with tiny symbols, yet it's hard to separate from one another when you're in the middle of combat.
Lastly, I'd like to take a look at the island's map. It has three parts, and thus three acts within the story as well. The lowest and first bit of the island you'll be playing in is Izuhara. Completing act one, you move on to Toyotama. Once you've completed act two, you move on to the final one, which is Kamiagata. There's another island in the DLC, however. The map shows you where you can find artifacts, any kind of quest, where you are, and where to find any areas to liberate. The map is very detailed and easy to follow. Definitely one of the better maps I've come across in any video game.
First, I had a very hard time getting into the game at first, more or less because I was so used to shooter games. This was a whole new level of gaming, to me. The controls were very hard for me to get under control and it frustrated me more than once when I died at the hands of the Mongols. However, getting more familiar with the controls, and the way the game worked and progressed, I began to enjoy it more and more. And once I realised I could free-roam, I started doing that in my spare time, and that was when I truly fell in love with what the game had to offer. The graphics are absolutely gorgeous. I think it's one of the most beautiful games I've ever played in terms of graphic design. And the lighting… don't get me started on that. So goddamn beautiful in all aspects. The voice actors are doing a pretty good job too, and the characters are very likeable. The game lets you choose what to say to people as well, which I think is an amazingly added game mechanic to truly make it feel as if your choices matter. I genuinely don't have any negative things to say about this game. I truly love it. A lot.
End conclusion: yes, I recommend this game. I shall give Ghost of Tsushima 5 out of 5 stars!
Love, Skye Lewis ❤
You can also follow me on Facebook, Twitter, Instagram, Twitch, and TikTok