I finished this game on stream a long time ago, but only now had the chance to write a review about it. You all know Uncharted is my favourite gaming franchise of all time, but… I'm afraid this game is now my all-time favourite! Why? Well, let me tell you why!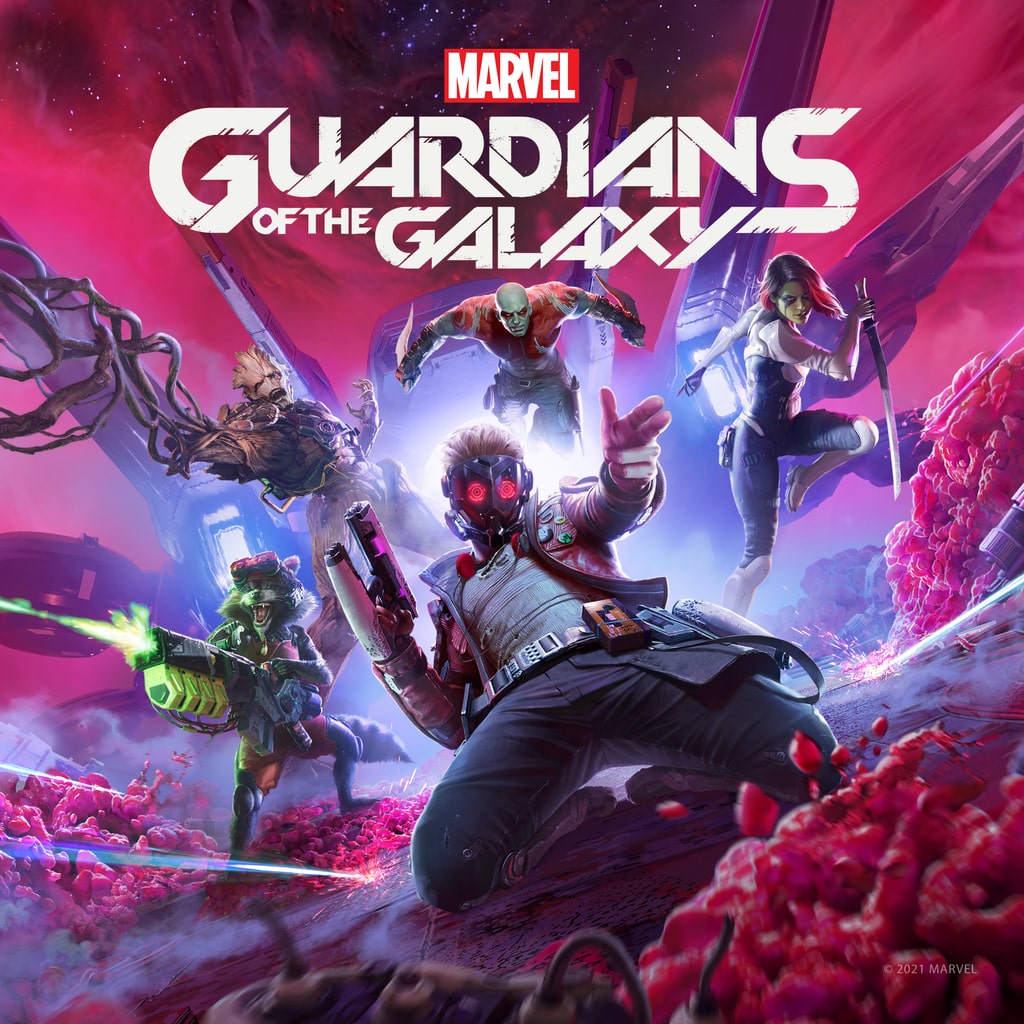 After an epic conflict known as the Galactic War swept through the cosmos. Star-Lord recently formed the Guardians of the Galaxy, they've been together for less than a year.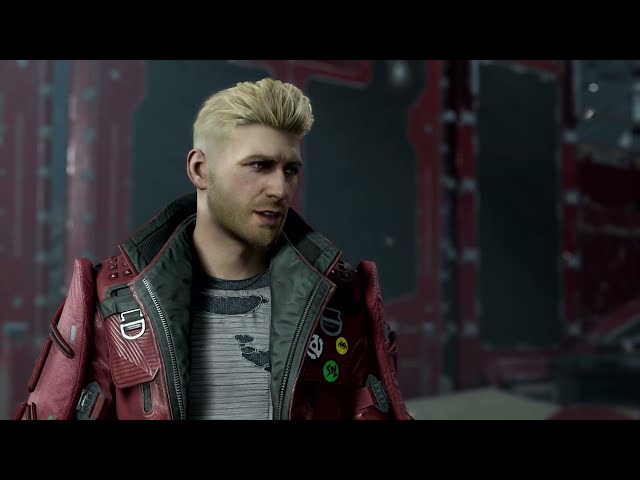 You're playing as Peter Jason Quill, a.k.a. Star-Lord. He's the self-proclaimed leader of the Guardians of the Galaxy, and the only one from Earth that you see throughout the game. I truly love this guy, and his voice actor, but more so the character. He's just so charismatic, and so handsome. Yeah okay, but for real. He's just so full of emotion, and care, and sure he makes mistakes. We all do. But he tries to fix it. He doesn't just go around and mope, or consider it something that can't be fixed. And what I admire most about him, is that he never leaves a single team member behind. That's a true leader.
I'll admit, I had a hard time getting into the combat at first. It's very different than what I'm used to, and I had read on multiple platforms that players hated how the combat worked. But, soon enough, I got the hang of it and my god, do I love the combat! It's so chaotic, and that's precisely what I love! Okay, the only thing I truly hate is flying the Milano, but the rest of the combat is honestly amazing. Especially with all the skills you can use as you progress through the game. And as Peter, you also have four elements up for use with your Element Guns. These will unlock automatically throughout the game and don't need to be bought. You need them to access certain areas or unlock certain hidden paths to find collectibles. And you can, of course, use them to stun or defeat enemies with.
Using his Visor Scanner, you can find parts to build perks. There's more than enough throughout the entire game, and you'll have bought all perks before the final chapters. Same for the skills. Each character has 4 skills. 3 of which you buy with ability points. You get those by finishing combat sections. You'll unlock all 20 skills (4 per character, of which there are 5) before chapter 14 starts. The last one, Groot's 4th ability, will be unlocked at the start of chapter 14. This is a very nice feature because you don't necessarily need to start a new game plus in order to get all of them. You only need to do that when you wanna get all outfits.
Each character has a bunch of different outfits you can find throughout the game. Most come from earlier editions in terms of comics and films, and some are game-related. I didn't really like all outfits, but some were honestly pretty cool. It's just fun to change their outfits every now and then. I think Rocket and Groot were the most boring in terms of outfits, which makes sense, considering Rocket is an animal and Groot is a tree. But the other three had some pretty cool, diverse outfits. You can't really find them using your Visor, so it's best to use a guide to find these, and the Guardian collectibles and files/documents.
You fight many different kinds of creatures throughout the game. Some can be easily defeated, others take more time. Then there are also humanoid enemies such as Nova Corps, Raker's followers, and people like Lady Hellbender and The Blood Brothers. And of course, the boss fights like The Grand Unifier Raker himself, and in the end Adam Warlock as Magus. And in my honest opinion, they're all pretty easy to beat. Only issue? Your health isn't something you can fix yourself. It kinda takes time to get your health back, and you gotta kill enemies to regain health. Or, your team members can help you 'revive.'
I can keep gushing about this game, but the visuals are so incredibly stunning. The whole game itself is such a beauty. And the music (when you're not in streaming mode) just adds a whole lot. And may I say that the dialogue is just the best of its kind? The humour, the witty remarks, the continuous snaps, and all that. My god, I loved it. Sure, they never shut up, but that's what I love so much about these characters and this game. They have so much to say, and it doesn't even annoy because it's so damn funny. And the voice acting… Holy damn. So good! Especially the last scene in chapter 15 before all hell breaks loose. Nikki, and Peter… even Ko-Rel… you'll know what I mean once you play the game yourself. It made me cry. Legimately, it made me cry. This game just changed my whole perspective on playing video games, honestly. I can't really explain why, but it did. And I've always been a huge fan of the Guardians of the Galaxy. This game is by far my favourite as of right now. Sorry not sorry, Uncharted!
End conclusion: yes, I recommend this game wholeheartedly. I shall give Marvel's Guardians of the Galaxy, 5 out of 5 stars!
Love, Skye Lewis ❤
You can also follow me on Facebook, Twitter, Instagram, Twitch, and TikTok