I finished this game on stream 2 weeks ago, and it was a truly awesome game. Do I like this game more than Resident Evil Village? Without further ado: let's get into the review! Be aware: this review contains spoilers!
An ordinary man must embark on a search to find his missing wife that leads him to an abandoned house where a mysterious family lives who harbor an evil secret within the house and themselves.
The protagonist of the game is Ethan Winters, the same as in Resident Evil Village. Though, technically, this is the first game we're meeting him in. And even here, they don't show his face. *Sniff sniff*. I have seen only a fragment when he was trapped by mold, but it still didn't satisfy me. I will say, that man loves his wife A LOT if he lets her just chop his arm off. Not cool, Mia, not cool, possessed or not.
This was the third game that I played first-person. And I admit that I'm already completely used to it. Of course, I played Resident Evil Village before this, so I'm already familiar with the controls and the way it looks first-person. I just kinda wish I could've seen his shoes. I really wanted to know what kind of shoes he was wearing. But apparently, he can't look down at his own feet haha.
Same as with Resident Evil 2 and Village, throughout the game, you collect tons of things to craft ammo, mines, pipe bombs, and health with. You also find files, Mr. Everywhere's, coins, and weapons. The thing is though, you need to be careful with what you choose to take because your inventory can be full really quickly, even when you've fully upgraded with only two backpacks. Then you have to discard things or store them. What I missed, is that the map shows what you've forgotten to collect. The previous RE games I played had the colour red if you weren't done searching, and blue if you were. And that wasn't added to this game. That was a huge letdown for me as I really appreciated that game mechanic in the other two games I played.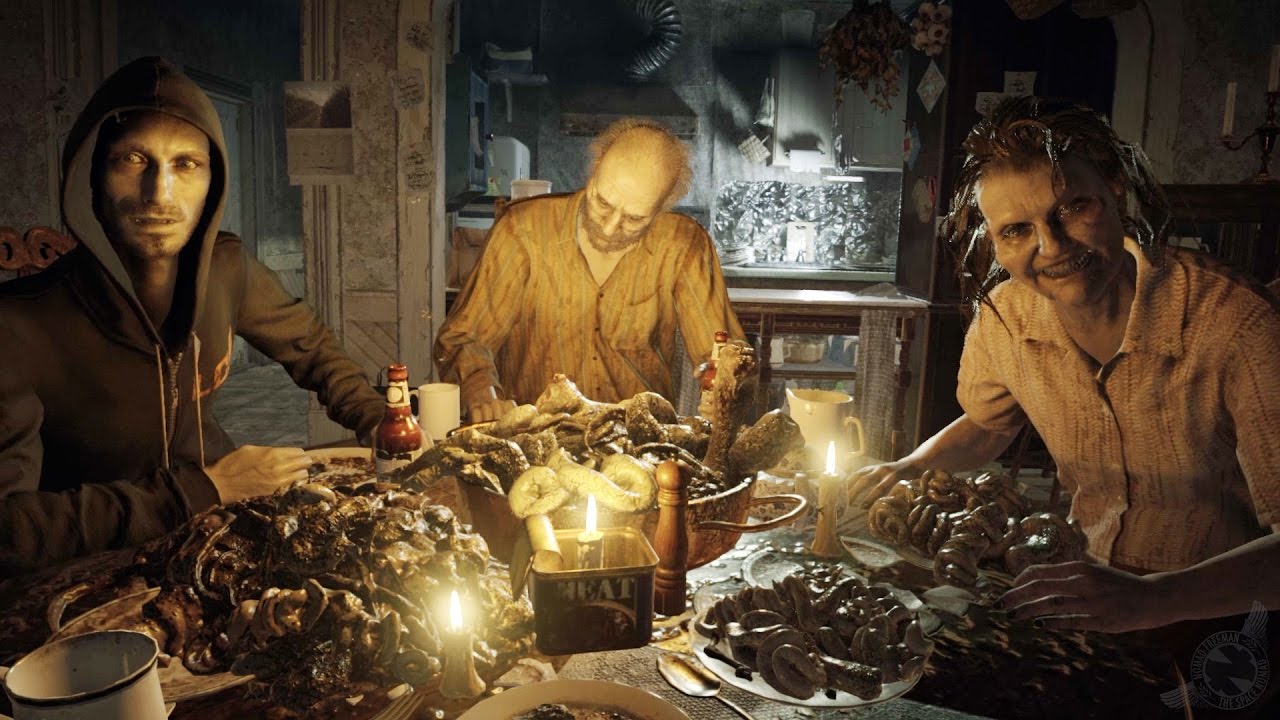 There are not one, not two, but three boss fights in this game. And it's all about the Baker family. First, you fight Jack Baker, who by the way respawns a bit too much to my liking. In many forms. Really annoying. Then, when you 'think' he's done, you fight Mrs. Baker, and she's at least gone once you defeat her. Then there's their son Lucas, and he's a nutjob. His face doesn't even look human, in my opinion. I can't really describe it. I really hate Lucas' character design. Anyway, you don't get to defeat him, which is quite a shame. What happens to him? No idea, I'd have to play the DLC for that. And the last boss fight, which is honestly quite a letdown in terms of boss fights, is Eveline, also known as Evie. A grandma, who is secretly a child. Yeah, I think Jack was the true boss fight, in my honest opinion.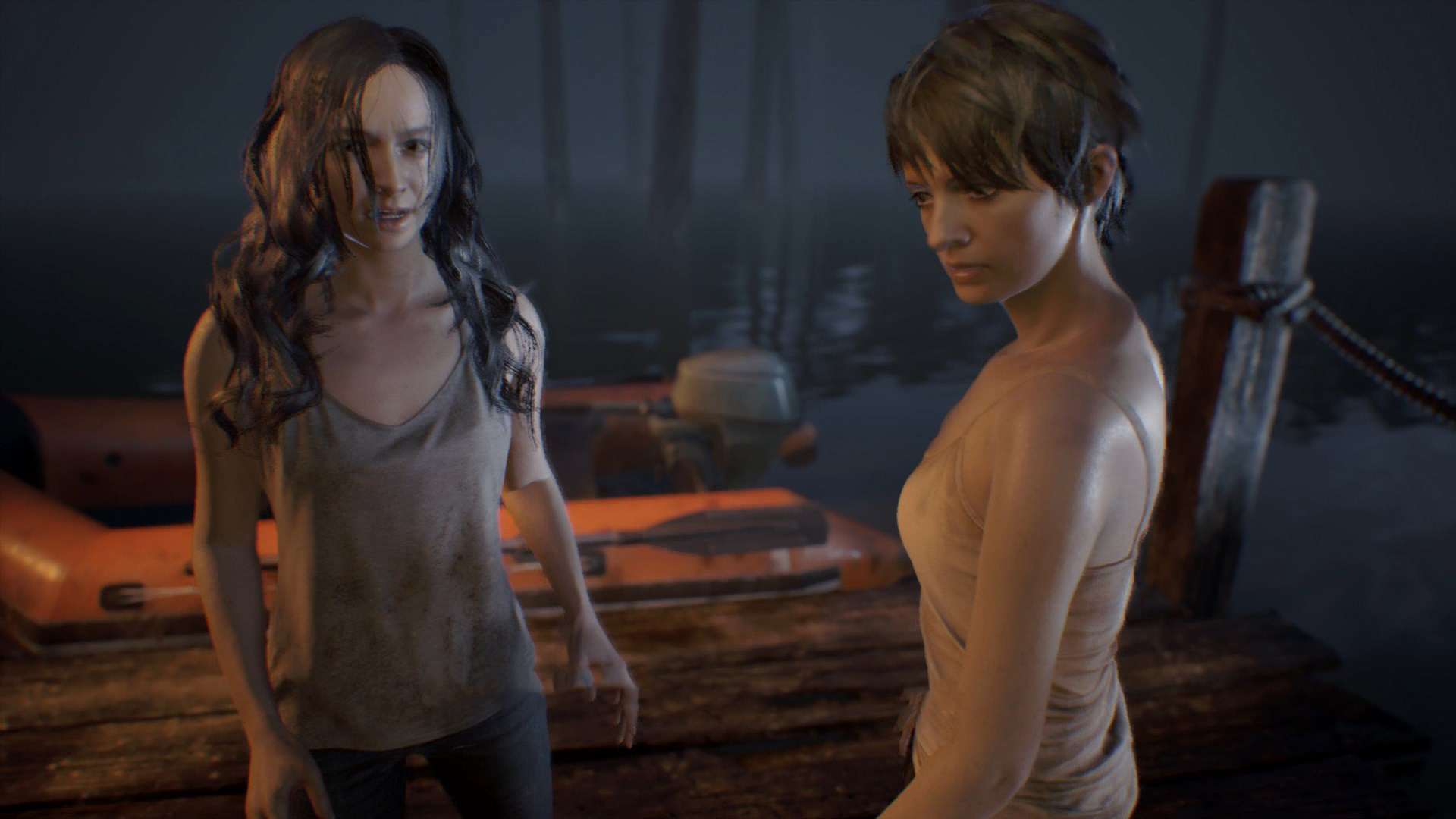 The game has 2 endings, as the game itself claims. Apparently, the endings aren't even that different from one another. The game-ending is exactly the same, only the road there is perhaps 5% different. You get to choose between your wife, Mia (the lady on the left), and Zoe Baker (the lady on the right.) Yes, the Baker's daughter. It's canon to choose Mia, of course. But I do wonder who'd choose a lady they've literally only just met? Okay, she didn't try to kill you, but still. For me, it wasn't that hard of a choice.
At least the ending was okay, to me. His wife was okay, we were okay, and we were rescued by the one and only Chris Redfield. By the way, his character design was also a huge letdown. Boy, am I glad they changed that in Resident Evil Village. But yeah, I kinda wanted the endings to be completely different. Imagine him choosing Zoe over Mia and marrying her instead. That the choices you made in that game automatically carry over to the next one. That would've been amazing, in my opinion. I did love the game in terms of gameplay. The weapons are pretty common, and you sadly can't upgrade them, but you're definitely not short on them. My conclusion: I loved the storyline and the way it developed over the duration of playing the game. I didn't like the last boss fight as that was a huge letdown, and neither did I like Lucas' character design, but I did love the first-person aspect. Which was to be expected.
End conclusion: yes, I recommend this game wholeheartedly. I shall give Resident 7: Biohazard, 4 out of 5 stars!
Love, Skye Lewis/Deem ❤
You can also follow me on Facebook, Twitter, Instagram, Twitch, and TikTok