Maggie is back again with some more beauty-related tips for all of you. This time it's about bleaching your armpits. This concept is new to me, but not to her. So, take it away Maggie!
Yogurt
This not only makes your skin lighter but also softer and fresher. Take some yogurt and add some lemon. Apply it to your skin with a cotton ball, leave it on for 10-15 minutes and then rinse with cold water. Your skin feels soft and an additional advantage: you have immediately removed those dead skin cells. It's recommended to do this daily.
2. Vegetables and fruit
Potatoes: Rub your armpits with a thin slice of potato. Leave on for 30 minutes and then rinse. Try to repeat this 3 to 4 times a week for a lasting effect.
Cucumber: Grab some cucumber slices and rub your armpits with it. Leave it on for half an hour, rinse and you're done.
Lemon: Grab half a lemon and rub your armpits with this. This not only brightens the skin, but also immediately removes dead skin cells. Let it soak in (about 10 minutes) and then rinse. Small tip: apply some moisturising cream afterwards. Lemon can dry out the skin.
Papaya: This fruit not only removes dead skin cells, but also stimulates the production of new cells. The most convenient is if you scoop a ball out of the papaya with an ice cream scoop. You can rub your armpits with this. Let it soak in for a while (20-30 minutes). Repeat this 3/4 times a week.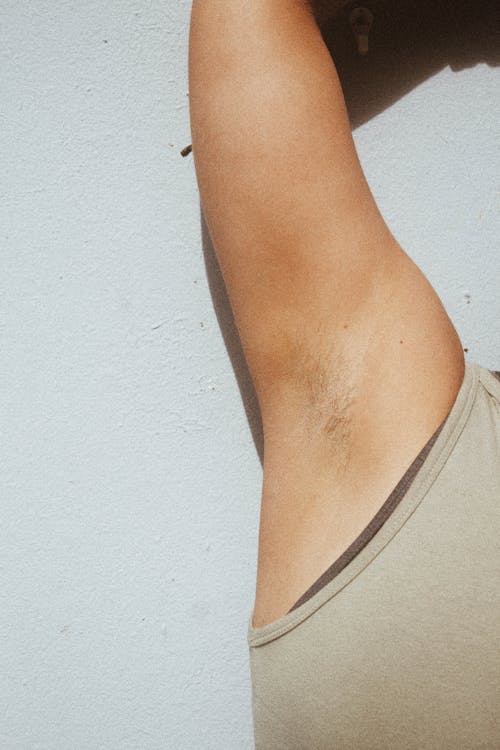 3. Aloe vera
Cut off a piece of leaf. Peel the leaf and divide it in half. Spoon out the gel and spread it on your skin. It's a very healthy solution, but for a lasting effect, you have to do this 2-4 times a day.
4. Scrub
Dark armpits, that's not just because of hair growth. The colour is mainly due to the dead skin cells that have collected there. You can make the whole thing a bit lighter with scrubbing. Here are some great resources to get you started.
Sugar: Mix one cup of brown sugar with 3 tablespoons of olive oil. In the shower, you lubricate your skin with this twice a week. Rinse well.
Baking soda: Make a thick paste of baking soda and water and use it as a scrub. Rinse it off after scrubbing and pat it dry. You can sprinkle some baking soda over the skin to make it appear instantly lighter. Keep doing this every day until you notice an effect.
Orange: Eat an orange, but keep the peels. You put these in the sun to dry. When they have dried, you can grind them into a powder. You can use this powder as a base for a scrub with milk and rose water. This allows you to easily remove dead skin cells.
Pumice stone: This product is available at the drugstore. If you get this stone wet, you can exfoliate with it. So, just leave it in the shower.
Love, Skye Lewis/Deem ❤
You can also follow me on Facebook, Twitter, Instagram, Twitch, and TikTok
Image source: Pexels