I finished this game on stream yesterday, and it was a truly awesome game. Do I like this game more than Resident Evil 2? Without further ado: let's get into the review! Be aware: this review contains spoilers!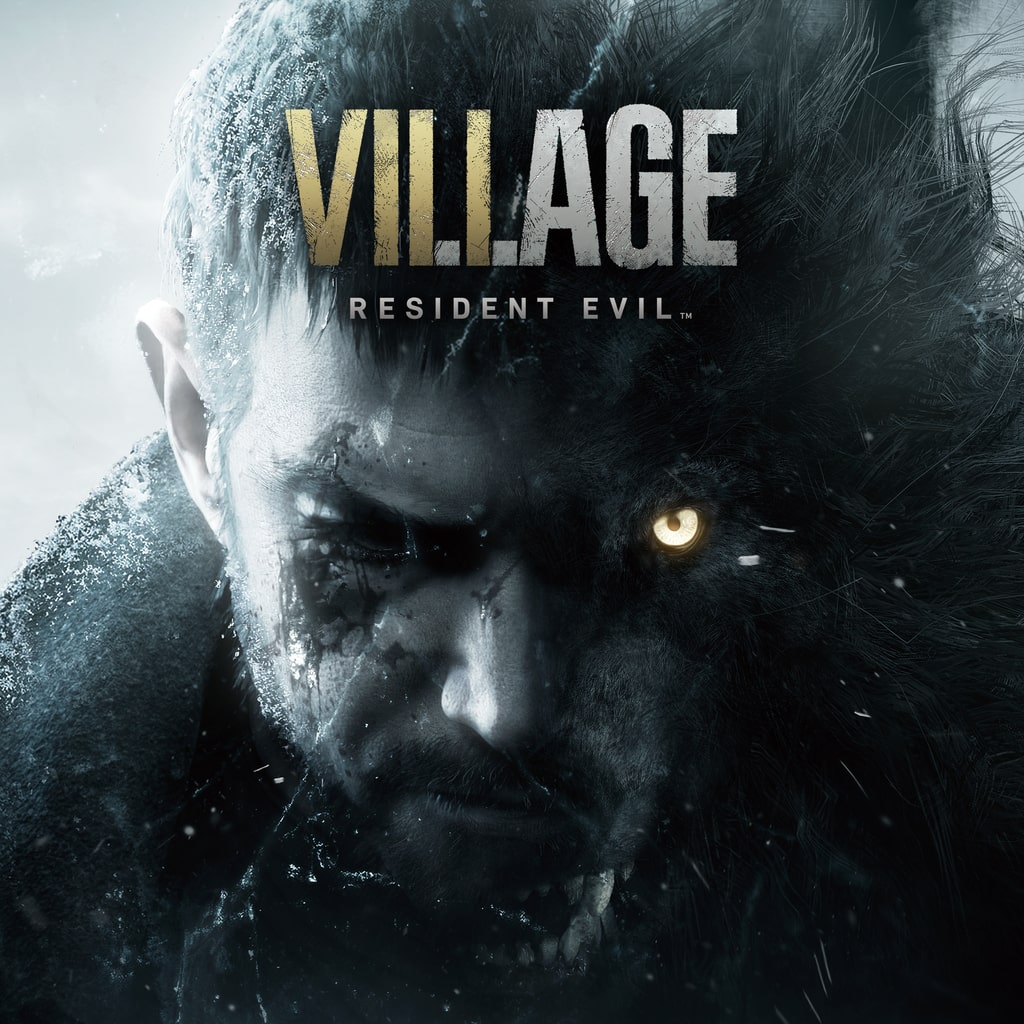 Ethan Winters' world suddenly comes crashing down when Chris Redfield's appearance sets off a chain of events that ultimately leads him to a mysterious village.
The protagonist of the game is Ethan Winters, and something that truly, really buggered me, is that we've never seen his face. Not once! At the very end, when I thought we could finally witness his face, (and I thought it had to be awesome considering his voice is really swoony) and yet we still didn't see it at the end. His face stayed a mystery and probably stays that way considering he's… uh, big spoiler. Never mind.
This was the second game that I played first-person. And I admit that at first, I had a really hard time getting into it. And yet, it also didn't take long before I got super used to it, and actually quite enjoyed it. Everything looks so much closer, and that's both intimidating and very cool. As for the guns, I find it really cool to see them from the right angle perspective, like you'd hold a gun yourself. It did add a lot more to the gameplay.
Same as with Resident Evil 2, throughout the game, you collect tons of things to craft ammo, mines, pipe bombs, and health with. You also find files, goats, outhouses, and weapon parts. The thing is though, you need to be careful with what you choose to take because your inventory can be full really quickly, even when you've fully upgraded. Then you have to discard things or sell them to the Duke. Who he is? I'll get to that. I love that the map shows what you've forgotten to collect, and when a place stays red, you haven't fully investigated it yet. It's an easy way to tell you which rooms are done searching, and which aren't. Blue, in that case, obviously means done.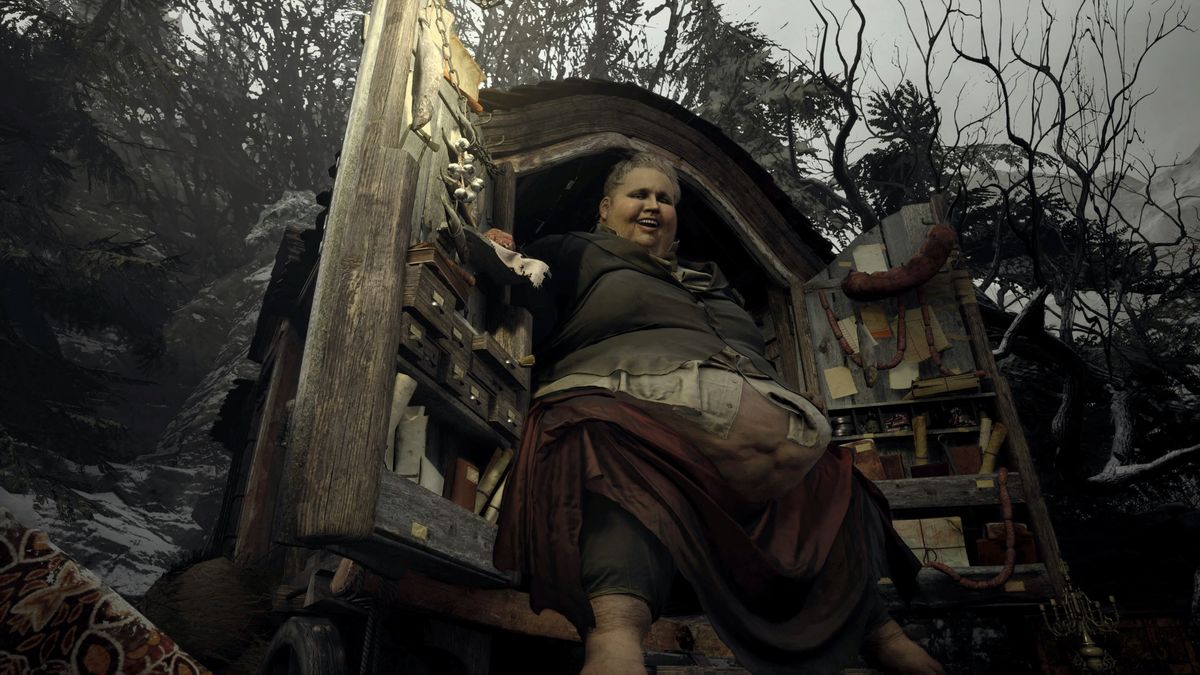 The Duke is a gentleman arms dealer, his throne garlanded not just with strings of sausage and wheels of cheese but weapon parts and crates of ammunition. He has no moral lessons to offer, but pistols, shotguns, pipe bombs, and landmines. And he cooks for you too, if you bring him meat and fish. Which isn't my favourite aspect, having to hunt for animals… He's undeniably jolly, yet not of this world. I mean, how can he appear in places I can't picture him reaching on foot? And the sounds he makes… Each time he does his weird cough, or choke, whatever it is, it makes me think there are lycans near me. He should really stop smoking…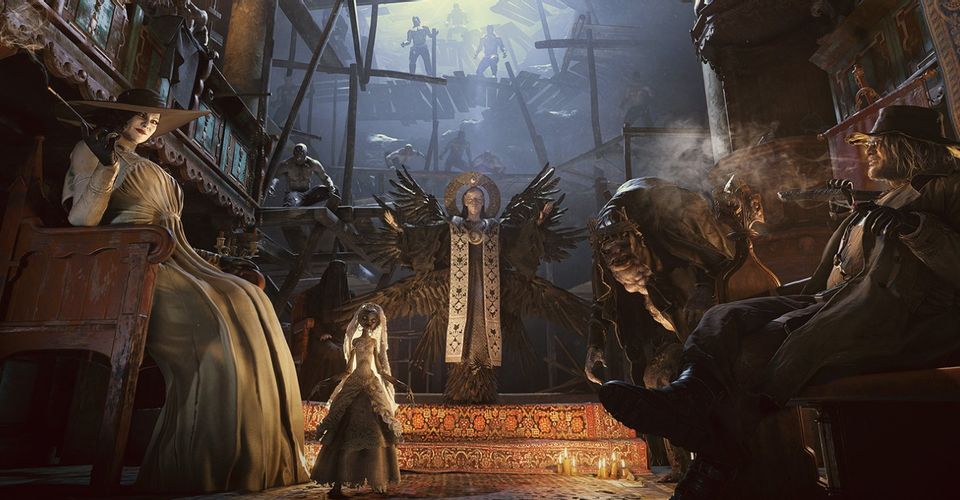 You have many people to kill. Lycans, Varcolacs, Moroaicas, Samcas, Soldats, Haulers, Dimitrescu's daughters, and not to mention the Four Lords Lady Dimitrescu, Donna Beneviento, Salvatore Mureau, and Karl Heisenberg, (Neil Newbon God). Then there are also Sturm, Urias, Baby, and the big bad woman that started all of this, Mother Miranda. Lots and lots of enemies. Honestly, maybe a bit too much. It's like, every 5 minutes you have to fight a boss and it's kind of tiring when you can't really seem to catch a break. And yet, they're beautifully designed.
I was honestly kinda upset with the ending, and with the revelation of Ethan's true condition. In the end, it just felt like I had been doing everything for nothing, which was the same feeling I was left with when playing The Last Of Us Part II. I mean, the kind of 'infection' he had was somewhat cool, but it was only known at the end, and honestly, a little rushed. And like I said, his story doesn't end so well, which left me with a sad feeling. I did like Ethan, a lot. And all he went through, it was all just for nothing. Okay, technically it wasn't, but it just felt that way considering the way his story ends. Still, I did love the game in terms of gameplay. There are many different kinds of weapons and my favourite weapon, by far, is the Wolfsbane M1851, which is a magnum. The most powerful weapon in the game, in my opinion. And yet, it's sad it doesn't have that much ammo. My conclusion: I loved the storyline and the way it developed over the duration of playing the game. I didn't like the huge amount of enemies as much, and neither did I like the ending, but I did love the first-person aspect and the Duke. Yes, I admit, I've got a soft spot for him. Just pretend you haven't read that.
End conclusion: yes, I recommend this game wholeheartedly. I shall give Resident Evil Village, 4,5 out of 5 stars!
Love, Skye Lewis/Deem ❤
You can also follow me on Facebook, Twitter, Instagram, Twitch, and TikTok