Did you know that you can now make your own red velvet cake? You know, the traditional American pie? The chocolate cake that's coloured red with a white chocolate icing with cream cheese? Let's take a quick look at the recipe!
Ingredients:
250 grams butter (at room temperature)
600 grams raw cane sugar
6 eggs
2 tablespoons red food colouring
3 tablespoons cocoa powder
375 grams white flour
250 ml buttermilk
1 teaspoon vanilla extract
1/2 teaspoon salt
1 teaspoon baking soda
1 tablespoon vinegar
For the icing:
2 slices (200 grams) cream cheese
350 grams white chocolate
250 grams butter (at room temperature)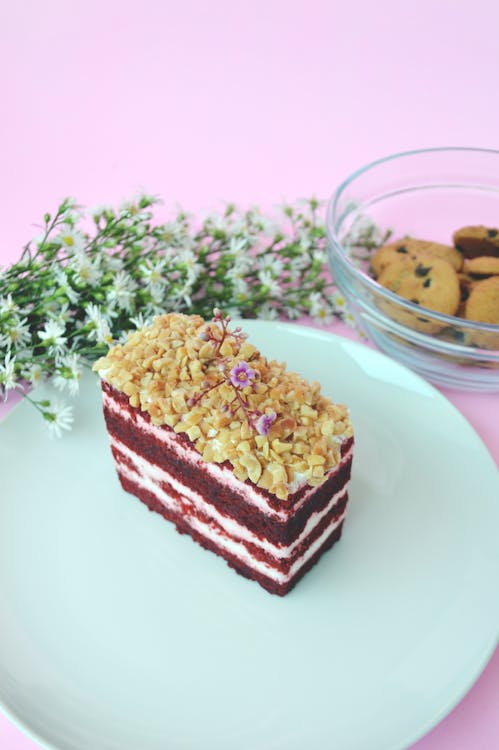 How to make it:
Preheat the oven to 170°C. Meanwhile, grease three 20 cm baking tins and dust the tins with flour so that your cake doesn't stick to the bottom.
In a large bowl, beat 250 grams of butter with 600 grams of sugar until creamy. Add the eggs one at a time and stir the mix until it combines well.
Mix the red food colouring with the cocoa and add it to the mixture from step two. Also add the flour and buttermilk followed by the vanilla and salt.
Mix the baking soda with the vinegar and gently stir into the batter. Don't mix too much and not too long!
Divide the batter between the 3 baking tins and bake in the preheated oven for 25 minutes. Then let it cool.
For the white chocolate and cream cheese icing, melt the white chocolate and let it get lukewarm. Then, in a large bowl, beat the cream cheese until fluffy. Then gradually beat the melted chocolate and soft butter through the airy cream cheese until the whole has the structure of whipped cream.
Then fill the cake and glaze it.
Love, Skye Lewis/Deem ❤
You can also follow me on Facebook, Twitter, Instagram, Twitch and TikTok
Images source: Pexels