I played this game 6 years ago when it was released, yet only 3 weeks ago, a viewer of my channel asked if I was willing to replay both 1 and 2 on my stream. And I said yes. But then I realised, that I never wrote a game review for this game, but did do this for 2. So, let me make up for that!
An awkward photography student named Max discovers her ability to rewind time, and reunites with her estranged best friend Chloe to investigate the mysterious disappearance of a local girl.
You play as Max(ine) Caulfield, an 18-year-old girl who loves photography. Throughout the game, you talk to people and undergo actions, yet her time travelling ability makes it so that she can rewind what she has done and try a different ending. If she was more pleased with the first ending, she can easily pick this and thus, manipulate time and present.
As for dialogue options, it's fairly simple. You get either two, three or four dialogue options to choose from. And it may happen that you start off with two, but end up with three when you turn back time to change the outcome. I do like it, because you can still make choices to influence the story, yet it's also kinda steering you into the direction of picking that one particular, newly added choice.
But, there are also some major choices that influence the story even more than the dialogue options. But literally all choices have consequences, which is what the game literally tells you which every choice you make. It becomes a little annoying at times, at least to me, because it makes you worry that you picked something wrong for a not so good outcome. And then you rewind time, pick the other option, and get the exact same sentence. What if you still picked wrong?!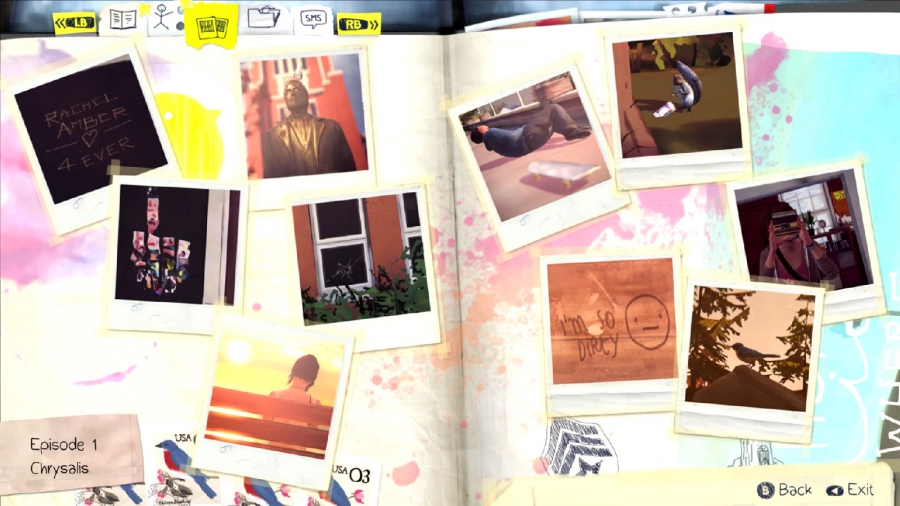 Each episode, you can collect optional photos for trophies. Some are binded to a choice that (you can guess) will have major consequences for the rest of the story. That being said, you can easily rewind time after taking the photo, and pretend like nothing ever happened. And the photo stays. I think they could've done a better job at that, that if you were to take that photo, the choice couldn't be undone and you had to learn to live with it, if you chose to hunt for trophies instead. But that's just my add-on opinion.
In all honesty, I like Life is Strange 2 more than 1. I don't know, I just don't like the whole 'time rewind' power Max has. It feels like she's overusing it, using it to her own advantage in some situations, and changing the stories of many that weren't supposed to go down that way. I mean, for me, she has a little too much power over all of this, and isn't it true that certain things are supposed to happen that way? I still enjoyed the story, don't get me wrong, but it's just a little too much power for me, if that makes sense. Because *SPOILER ALERT* at the one ending, you can just undo everything you've gone through throughout the game. Now there's also another ending, but then it's just a little selfish to me? It's kinda hard to explain. Game wise, the game is amazing. The controls are amazing, the graphics are beautiful, and the game provides enough hints if you're stuck at a certain spot. The characters are amazing too, and so are their voice actors. The story has its ups and downs, but what really doesn't meet my expectations, is the amount of power at your disposal.
I shall give Life is Strange 1, 3 out of 5 stars!
Love, Deem/Skye Lewis ❤
You can also follow me on Facebook, Twitter, Instagram, Twitch and TikTok