I'm back with a new vegan recipe! And today, we jump into something that literally (almost) everyone loves: chocolate! So, let's take a look at the ingredients lists and instructions!
Ingredients
1/2 cup + 1 tablespoon raw cacao butter
3 tablespoons maple syrup
1/2 teaspoon vanilla extract
1/8 teaspoon Himalayan salt
1/2 cup cacao powder
For add-ins
1/4 roasted nuts
Cacao nibs
Freeze-dried fruit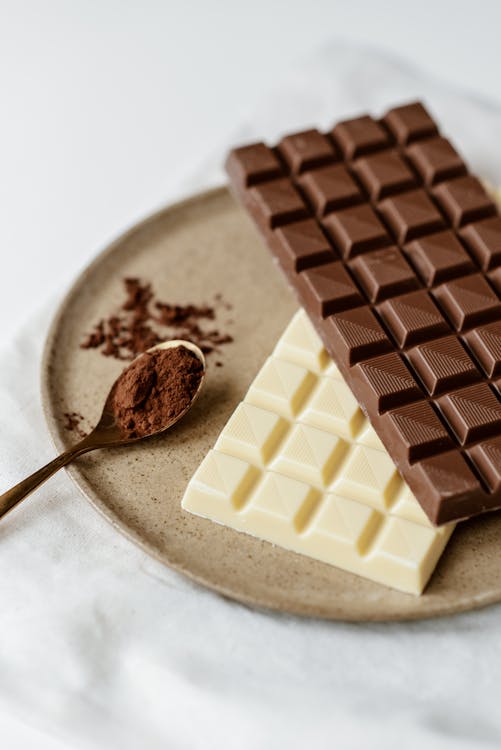 Instructions
Prepare your chocolate molds, a small baking tray or pan of your choice. Simply cover it with parchment paper. It's ideal if the shell is very narrow as this will result in a better thickness. Put aside.
Prepare a double boiler: bring a small pot of water to a boil. Once it boils, reduce the heat to a simmer and place a glass (or ceramic) bowl or other smaller pan over the water. The key here is to make sure that no water gets into the bowl or pot. Add the cocoa butter and let it melt slowly, mixing often. Once the cocoa butter has melted, remove the top bowl or pan and place it on a pot holder on the counter.
Beat in the maple syrup, vanilla extract and salt until smooth. Sieve in the cocoa powder with a fine-mesh sieve. Beat again until smooth and homogeneous.
Pour the melted chocolate into the molds or the baking tray lined with parchment paper. Smooth it with a spatula and sprinkle any additional ingredients over it.
Place the tray or molds with the baking mixture in the fridge or freezer for about 10-15 minutes to set.
Love, Deem/Skye Lewis ❤
You can also follow me on Facebook, Twitter, Instagram and Twitch
Image source: Pexels