I'm a vegetarian since 2013, but am also looking at vegan options more and more. I do make sure I get the proteins and vitamins I need, don't worry. But, I also know that more people are looking for vegan recipes of certain snacks, so I'm here to provide the first one!
Ingredients:
2 tsp active dry yeast
1 ½ tbsp granulated sugar
1 1/2 cups warm water
3 ½ cups (500g) bread flour + more for kneading
1 ½ tsp salt
To top with:
1/4 cup almond milk
Bagel seasoning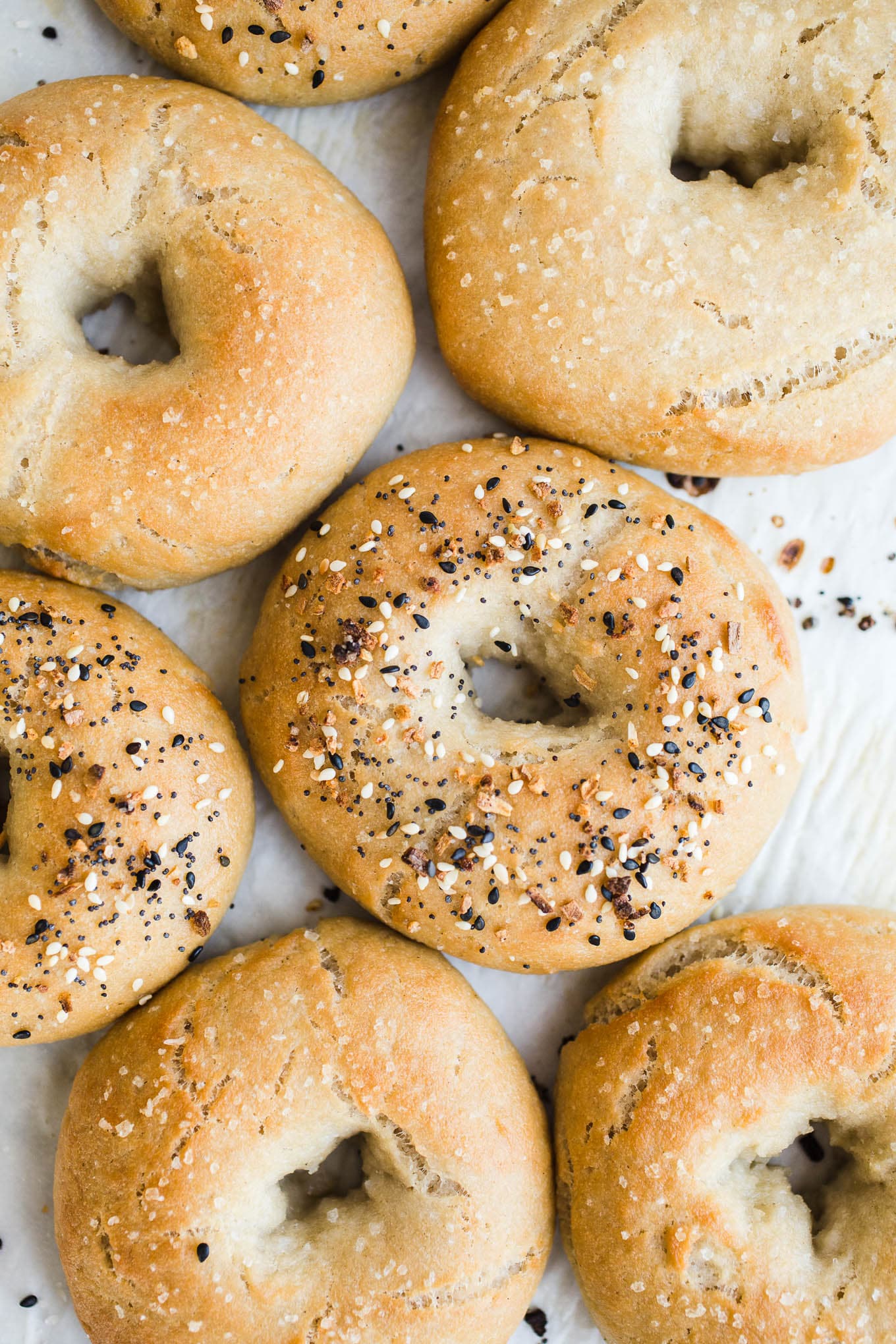 How to make:
Mix together the sugar and 1/2 cup of warm water, then pour the yeast over it. Gently mix it together and then let it sit for 15 minutes to activate.
In a large bowl, combine the flour and salt. Make a well in the center, then add the yeast and sugar mixture along with 3/4 cup of the remaining warm water. Mix well until a smooth dough forms. If it's too dry, add 1 tablespoon of the remaining 1/4 cup of warm water at a time if needed. If it's too wet, add 1 tablespoon of flour at a time if necessary.
Flour a countertop or large cutting board, and knead the dough for 10 minutes, or until smooth and elastic.
Wet the inside of a clean, large, non-metallic bowl with water, place the dough in it, and flip until the outside is moist. Cover with a damp tea towel and let it rise in a warm place for 1 hour, or until doubled. Once risen, punch down the dough and let it rest for 10 minutes.
Cover a baking tray with a silicone baking mat or baking paper and set aside. Remove the dough from the bowl and divide it into 8 pieces. Roll each piece into a ball. Repeat with all of the dough.
Cover your finger with flour, then press the center of the ball to form a ring. Stretch the dough balls into rings about ⅓ the diameter of the bagel and place on the baking tray. Cover with a damp towel and leave for 10 minutes.
Preheat your oven to 425ºF, and bring a large pot of water to a boil. Get your herbs and almond milk ready, because you will need them afterwards.
Once the water has boiled, turn the heat down to medium and use a slotted spoon to lower as many bagels that will comfortably fit in the water. Once they float to the top (a few seconds) cook for 2 minutes, flip and cook for 2 more minutes.
Once all the bagels are cooked, place them on your parchment-lined baking tray. Brush the dough with almond milk and sprinkle with your herbs.
Bake the bagels for 20 minutes, or until golden brown. Remove from oven and cool on a wire rack for at least 10 minutes. Store in an airtight container for 4-5 days.
Love, Deem/Skye Lewis ❤
You can also follow me on Facebook, Twitter, Instagram and Twitch
Image source: Pexels