I've recently started playing a new game on my Twitch channel. It's the sequel to Marvel's Spider-Man that I played before this. I like it just as equally as the first game. The buttons work the same, but there are some new things added. And that's honestly pretty cool. Anyway, let's start my review before I give away too much!
In this sequel of Marvel's Spider-Man (2018), you can play as Miles Morales as a new and different Spider-Man while he learns some stories about his will of fighting crime and serving justice by his mentor and former hero, Peter Parker.
Spider-Man is obviously created as your daily, loveable superhero: defeating crime and beating thugs. And Miles Morales isn't anything different from that. Story-wise and off the story, you get to beat hundreds of thugs that are either from the Underground, Roxxon or just your average normal thugs. Each has a different way of attacking and for you to attack as well. The further you progress, the harder it is to defeat certain enemies without gadgets.
This image shows everything you basically need for the game. In the right upper corner, you'll see the level you're at and the amount of XP you've gathered so far. In the middle, is the map of New York. At the bottom, you'll see tokens. Those are the tokens you can get throughout the game, which helps you to buy suits and gadgets. Above, you see a red bar with multiple words. Those are the menus for gadgets, suits, skills (each level up means a new skill point to use), moves (with button explanation) and so on.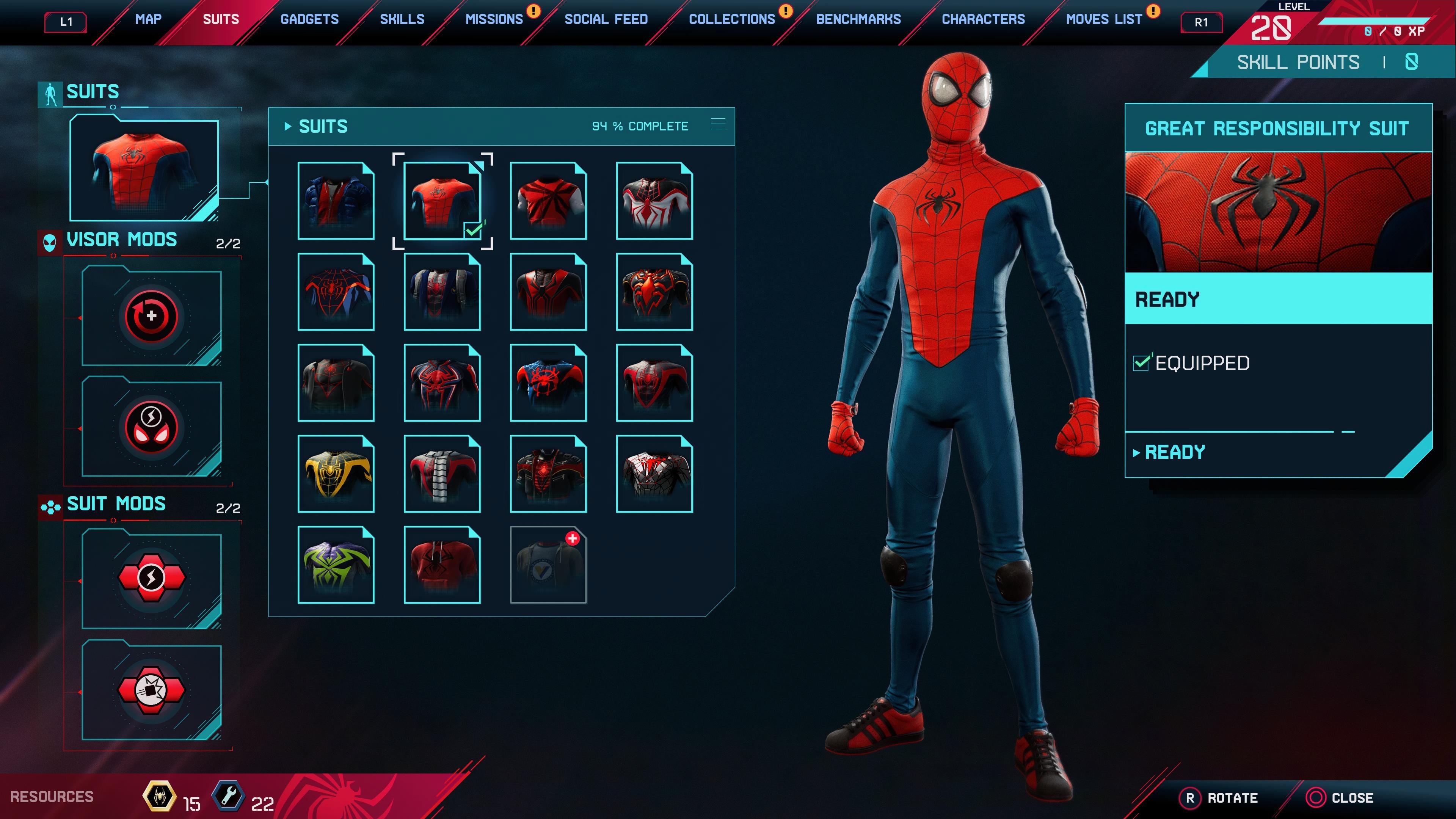 There are 19 suits. Some are unlocked by each level you reach, by side missions you fulfil and story missions you fulfil. The last suit can only be unlocked by starting a new game +. Each suit has its own suit mod (or well, some of them do. And some don't).
There are 4 gadgets with 4 total purchasable upgrades to collect each. You can upgrade them with tokens, that you earn throughout the game as mentioned before. The same goes for some suits. What's very cool though this game, is that Miles has two abilities that the original Spider-Man doesn't have: the ability to camouflage himself (including his clothing) to match his surroundings, making him effectively invisible and a venom strike that can temporarily paralyse almost anyone with just a touch.
Last but not least, the skills you can activate. We've got three categories: combat skills, venom skills and camouflage skills. It's a huge advantage to combat to unlock specific ones. At the bottom, you can unlock 9 extra skills as Peter teaches you those with holographic trainings. Those are for combat, stealth and traversal. The effects in this game are way cooler than the ones in the previous Spider-Man game, so is the music and overall graphics. Story-wise, I'm not really that far into it yet, but I've heard the game isn't that long. That's kinda sad for a game that's pretty pricey. But hey, we can only talk about that once we've finished it ey? So, until then: I can only recommend this game just as much as the first one!
I shall give Miles Morales, 4 out of 5 stars! 
Have you played the game yet?  
Love, Deem/Skye Lewis ❤
You can also follow me on Facebook, Twitter, Instagram and Twitch