Warning: contains topics that may cause an uneased feeling. Advised to not read at night or rather with someone when easily feeling unsettled.
There are many (abandoned) buildings that behold ghost stories, or well, paranormal ones. I've always been interested in such stories, including abandoned buildings. Sure, the question will always be the same: are such stories true? Multiple buildings have been visited by paranormal scientists, and they said it was true. I've researched multiple stories last year, for no real purpose. In several parts, I'll be telling all international paranormal stories! Today: part 4!
1. The Octagon House (Washington) 
It was built for Colonel John Tayloe III. It's said to be one of the most haunted places in D.C. As two of Colonel's daughters are said to be haunting the place. The first was said to have died during the war of 1812. They were arguing on the second floor. As the daughter turned around to walk away, she fell off the stairs and died in the process. She's often seen walking the stairs, as the appearance of a candle's light. The other daughter that died, was around 1817 or shortly after. Her father discovered that she went out on a date with a man, just like her sister did and was in a fight with her father on the third floor. She too fell to her death and is said to haunt the third floor and the stairs between the second and third floor. However, this doesn't seem accurate, as none of them died at the house. There was also a gambler, shot to death in the home's third-floor bedroom in the late 19th-century. He has been seen in the room in which he died. The reason why he was killed? Because of a card game, held in the room. Others say they hear the rustling of silk on the main staircase, which also has a spot at the foot of it that makes some people feel as if they need to avoid it. And not to forget that the hanging lamp in the main hallway allegedly swings by itself. Lastly, we have Dolley Madison, a well-known hostess during the first quarter of the 19th-century. She's said to haunt several buildings around town. According to people, she's supposedly most often seen in the front hall and drawing-room. The smell of lilacs is noticeable whenever her ghost appears.
2. Robinson Rose House (San Diego, California) 
Many different forms of paranormal activities have been reported. People have seen several ghostings wearing periodic clothing, just as weird looking human formed nebulas. Footsteps have been heard, and women say they feel someone tucking at their hair. Or, play with it. The ghosts seem fascinated by electricity, as they turn the lights on and off and the lift seems to go from one floor to the other, while no one is inside. It's said that because it has been rebuilt (with an exact replica) the original owner Judge Robinson and his wife Sarah have returned in their ghostly form, trying to live their life like a happy couple before Robinson got sick and died. People often see a man in an 18th-century shirt and tie in one of the rooms on the top floor. And people often hear footsteps from a big man walking around.
3. William Kehoe House (Savannah, Georgia)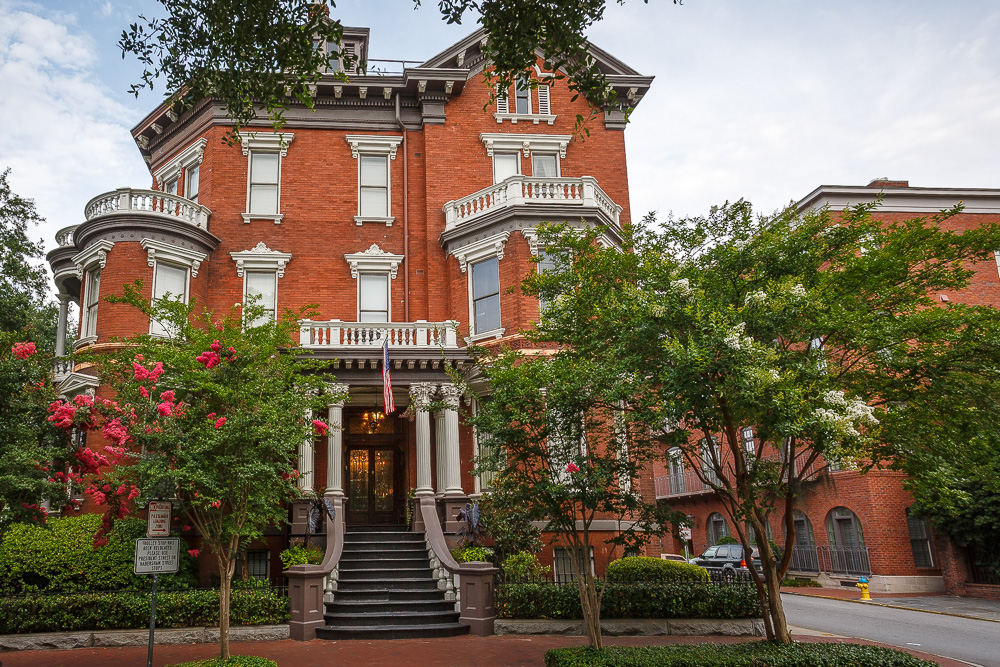 William Kehoe and his family are still staying at their home, even after their death. They're doing their daily, normal routine, as they're also interacting with their guests and employees. Mrs Kehoe is often seen writing at her desk or sitting on the beds of the sleeping guests. Mr Kehoe is seen throughout the house and opened all closed doors on the first floor. All at the same time. The young twin boys from the Kehoe's died thanks to an accident while they were children. They've both been seeing haunting the house, as their footsteps can be heard while they run at the top floors.
4. Lizzie Borden House (Fall River, Massachusetts)
It's the location for the infamous known axe murders of Lizzie Borden's parents. Well, her father Andrew Borden and her stepmother Abby. Lizzie had first killed her stepmother, then claimed she had left the house when her father came home. Then, when he took a nap on the sofa, she killed him. She stated someone had come in and killed him. They found the weapons in the basement, but they seemed to have been there for a long time, as they were covered in dust. And Lizzie didn't have any bloodstains on her when the police came. Nevertheless, there was enough evidence against her that she was the main suspect for the murders and was sent to court. However, she was acquitted of murder. Weirdly enough, she stayed close to her home, living in Fall River. People believe her desire to stay close to her home is true, even after her death. On the night of the murder, after murdering her stepmother, she was heard laughing. Her ghost has been spotted throughout the house and is heard laughing on the second floor near the stairs. Her father and stepmother were also seen and heard, together with their former maid of honour who's said to call for help.
5. Ann Starrett Mansion (Port Townsend, Washington)
A house that was built in 1899 by George Starrett, for his wife Ann. The house is said to show multiple paranormal activities. Some are connected to George and Ann, but most of those activities are connected to the nanny they hired for their only child Edward. They've seen and felt her presence throughout the house. She's mostly kind but can attack particular people. It's known that she makes photos fall off the wall, flip pages from books and create extreme cold places throughout the house. Lights are turned on and off when guests are in certain rooms and it's said that she thumps guests on the head if they make offensive remarks.
That's it for part 4! Which story had you heard before? And which one seems the most 'creepy' to you?
Love, Deem ❤
You can also follow me on Facebook, Twitter, Instagram and Twitch