Hey Creabea's,
Ik ben dol op cabaretiers, en Jeff Dunham hoort daar ook zeer zeker bij. Hij is eigenlijk een van de weinige buitenlandse cabaretiers die ik leuk vind. Alleen is hij natuurlijk geen cabaretier, maar buikspreker. Ik vind het een toffe man, en zijn poppen vind ik helemaal geweldig. Wie hij is, wat hij doet en welke poppen hij bespeeld?
Jeff Dunham is afkomstig uit Amerika en zijn volledige voornaam luidt Jeffrey. Jeff is een buikspreker en stand-upcomedian. Het nadeel is wel dat ik weet hoe het werkt. Je lippen een beetje openen, dat is eigenlijk alles wat je doet. Van daaruit komt gewoon je stemgeluid. En bij Jeff Dunham hoor je als je heel goed luistert, exact dezelfde stemmen, maar dan vervormd of met een accent.
Zijn poppen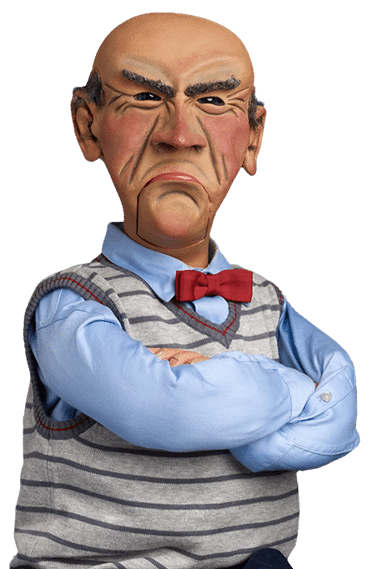 Walter is een chagrijnige oude man die ongelukkig is in zijn huwelijk. Hij is het stereotype van een knorrig oud mannetje dat overal kritiek op heeft en nooit tevreden kan zijn. Hij geeft niets om zijn vrouw of om het publiek, en heeft een sarcastische kijk op de wereld.
Peanut is een woozle en is altijd druk en opgewekt, en houdt ervan om grappen te maken over Dunham zelf. Hij wordt geregeld gebruikt in combinatie met José Jalapeño, die eveneens slachtoffer is van Peanuts grappen. Hij komt uit Micronesië.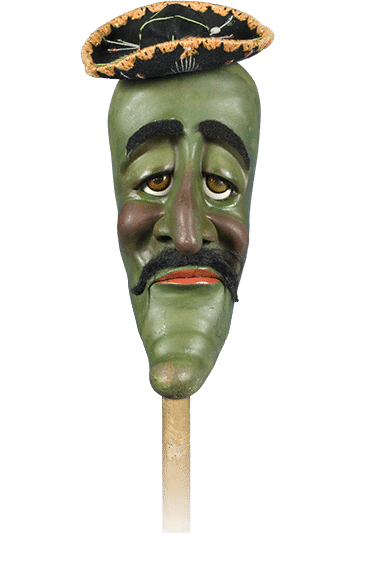 José is een pratende jalapeño op een stok. José praat met een zwaar Mexicaans accent. Hij symboliseert het latino-stereotype. De meeste grappen rondom hem draaien om zijn afkomst en zijn vreemde verschijning. Dunham gebruikt José meestal in combinatie met Peanut.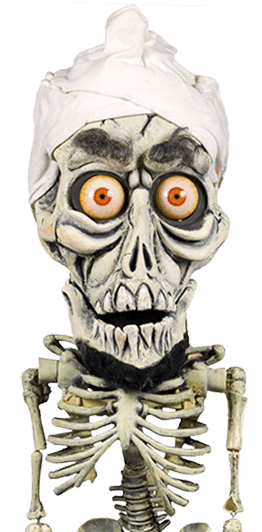 Achmed is een skelet. Hij is erg agressief en dreigt in iedere show voortdurend om Dunham of het publiek te vermoorden, maar heeft ook gevoelige kanten die soms duidelijk worden. Hij is doodsbang voor Walter. Zijn bekendste uitspraken zijn "Silence! I kill you!" en "Stop touching me!".
Melvin is een superheld die door Dunham wordt gebruikt om grappen te maken over stereotiepe superhelden. Melvin heeft maar twee superkrachten: hij kan vliegen (over de afstand die Dunham hem kan gooien) en heeft röntgenogen (maar hij kan niet door siliconen kijken). Melvin is totaal niet onder de indruk van andere superhelden daar hij hen maar uitslovers vindt met hun grote arsenaal aan superkrachten.
Sweet Daddy Dee is een trotse Afro-Amerikaanse souteneur en de nieuwe manager van Jeff. Hij noemt zichzelf een 'pimp', wat volgens hem staat voor 'player in the management profession'.
Bubba J is een stereotype redneck. Hij houdt van simpele dingen in het leven zoals bier en NASCAR. Hij is niet bijster intelligent.
Dan zijn er nog:
Diane verscheen voor het eerst met Dunham in de film Dinner For Schmucks als 'Debbie', de vrouw van zijn personage. Ze maakte haar stand-updebuut in Dunhams Identity Crisis Tour (2010).
Achmed Junior (AJ) is de zoon van Achmed, half gehavend door het 'ongeluk' dat Achmed met zijn mobiele telefoon bij de benzinepomp heeft gehad waardoor hij er half menselijk en half als skelet uitziet. Tevens heeft deze een Brits accent gezien hij nu in een pleeggezin in Engeland woont.
(Mini) Ugly Ass Jeff is te zien in de Identity Crisis Tour. Peanut maakt hierin zijn 'buikspreek'-debuut, dit doet hij met een kleine Jeff Dunham-pop.
Little Jeff verscheen in de Disorderly Conduct Tour. Hij houdt er blijkbaar erg van om zijn grotere identiteit belachelijk te maken.
Jacques Merde is de Franse neef van Achmed.
Mijn favoriet
Peanut is toch wel echt mijn favoriet. En dan heb ik natuurlijk ook een favoriet stukje van hem opgezocht via YouTube.
Ken jij Jeff Dunham? Welke pop is jouw favoriet?
Liefs, Demi ❤
Volg mij ook op Facebook, Twitter en Instagram (via de linkjes of kijk in de zijbalk)