Hey Creabea's,
Ik kijk best veel films, en ik ga ongeveer eens per maand naar de bioscoop als er een leuke film draait. In deze rubriek deel ik filmtips, variërend van de wat oudere tot de nieuwere films. It's movie time!
1. Overboard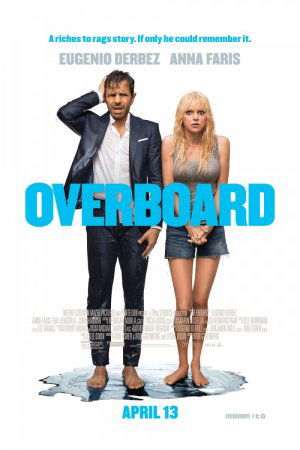 Kate is een hardwerkende, alleenstaande moeder van drie kinderen die wordt ingehuurd om de luxe jacht van de egoïstische en verwende miljonair Leonardo schoon te maken. Leonardo heeft nog geen dag in zijn leven gewerkt, behandeld Kate als oud vuil en weigert haar zelfs te betalen. Wanneer Leonardo per ongeluk overboord slaat en met geheugenverlies op het strand aanspoelt, ziet Kate haar kans om hem terug te pakken. Ze bedenkt een plan en overtuigt Leonardo ervan dat hij haar man is. Terwijl Leonardo zich voor het eerst in zijn leven in het zweet werkt voor zijn 'gezin' geniet Kate van haar wraak. Maar hoe lang kan ze haar leugen nog verborgen houden?
2. Love, Simon
Iedereen verdient de ware liefde. Maar voor de zeventienjarige Simon Spier is het net iets ingewikkelder: hij moet zijn familie en vrienden nog vertellen dat hij homoseksueel is én hij weet niet wie de anonieme klasgenoot is op wie hij online verliefd is geworden. Het oplossen van beide kwesties blijkt hilarisch, angstaanjagend en zet zijn leven totaal op zijn kop.
3. Gamer
In een futuristische toekomst krijgen gevangenen die ter dood zijn veroordeeld de kans om hun vrijheid te winnen door mee te doen aan een uiterst gevaarlijk virtual reality spel dat live wordt uitgezonden. Er is maar één regel: vechten tot de dood. Kable is afkomstig uit één van de vele competities. Hij probeert zijn onafhankelijkheid te winnen en eens voor altijd een eind te maken aan deze waanzin door helemaal van onderaan te beginnen en tot de top te overleven en het uiteindelijk op te nemen tegen het genie van het spel, Zaal.
4. Ocean's 8
Vijf jaar, acht maanden, twaalf dagen… en een beetje heeft Debbie Ocean moeten wachten op wat de grootste roof van haar leven moet worden. Als geen ander weet ze wat je daarvoor nodig hebt: experts. Samen met haar partner in crime Lou Miller stelt ze een team van specialisten samen, bestaande uit een juwelenmaakster, straatoplichtster, hekwerkexpert, hacker en modeontwerpster. Het doel van deze roof is diamanten ter waarde van 150 miljoen dollar te stelen tijdens hét evenement van het jaar; het Met Gala. Echter, de diamanten schitteren wel om de hals van een wereldberoemde actrice, het stralende middelpunt van de avond. Het plan is waterdicht maar het team mag geen enkele fout maken om binnen te komen en onopgemerkt weer te vertrekken met de buit.
5. Hereditary
Nadat de grootmoeder van de familie Graham overlijdt, werpt de aanwezigheid van deze weinig geliefde vrouw nog steeds een schaduw op het gezin. Vooral haar kleindochter Charlie, voor wie ze altijd al een ongewone fascinatie had, lijdt eronder. De Grahams zitten nog midden in hun rouwproces wanneer langzaam maar zeker de afschuwelijke waarheid over hun afkomst aan het licht komt. Annie, de moeder binnen het gezin, wordt gedwongen om een duister pad in te slaan om te kunnen ontsnappen aan het noodlot dat hen allen te wachten staat.
6. Ghostland
Na de dood van haar tante erven Pauline en haar dochters haar huis. Tijdens hun eerste nacht in hun nieuwe onderkomen dringen moordenaars het huis binnen en moet Pauline vechten om het leven van haar dochters te redden. De traumatische nacht drijft de twee zussen nog verder uit elkaar. Beth, de oudste dochter, wordt een beroemde horrorauteur met een perfect gezin en leven in Los Angeles, terwijl haar zus Vera haar trauma niet aankan en ten onder gaat aan paranoïde aanvallen. Zestien jaar later komen de zussen en hun moeder weer bij elkaar in het huis waar Pauline en Vera al die tijd zijn blijven wonen. En opnieuw gebeuren er vreemde dingen in het huis.
7. Beastly
De film – geïnspireerd door het klassieke verhaal van "Beauty and the Beast" – speelt zich af in een moderne setting. Nadat de arrogante tiener Kyle Kingson zijn Gothic klasgenote heeft vernederd, spreekt zij een vloek over hem uit die hem verandert van 'lekker ding' in een afzichtelijk monster. Om de toverspreuk te verbreken moet Kyle iemand vinden die van hem houdt zoals hij nu is.
Nestel jezelf op de bank of ga naar de bioscoop, en geniet van deze leuke films! 😀
Liefs, Demi ❤
Volg mij ook op Facebook, Twitter en Instagram (via de linkjes of kijk in de zijbalk)