Hey Creabea's,
Ik ben een echte muziekliefhebber en ik kan echt geen dag zonder muziek overleven. Ik moet echt elke dag wel even naar muziek luisteren, anders kan ik gewoon chagrijnig worden. Maar hoe luister ik muziek wanneer ik werk, en hoe als ik onderweg ben? Welke platformen gebruik ik zoal? Dat ga ik jullie vandaag allemaal vertellen! 🙂
Thuis
Als ik thuis ben, dan luister ik meestal naar gedownloade nummers. Via een site waar je legaal en gratis liedjes mag downloaden, zet ik ze na de voltooiing van de download op mijn MP3 speler, op mijn mobiel playlist en op mijn computer via Windows Media Player. Zo kan ik altijd en overal van de liedjes genieten, zonder reclame tussendoor of constant zoeken naar nummers waar je naar wilt luisteren. Maar ook luister ik graag naar albums/cd's van bands die ik heb aangeschaft. Hallo draagbare cd-speler!
Onderweg
Met de auto is het vaak zo dat ik gewoon de radio aan heb, al heb ik soms ook weleens een cd mee en heel soms neem ik mijn USB-stick mee om mijn eigen playlist mee af te spelen via de radio. In de trein en/of bus doe ik dat altijd met mijn mobiel of MP3. Dan selecteer ik gewoon mijn eigen playlist, en dan kost het ook geen internet verbruik.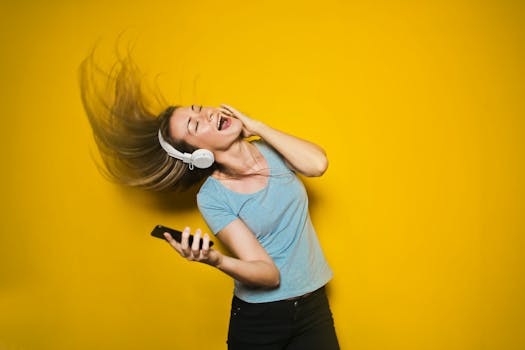 Sites
Ik luister via YouTube naar muziek, maar als ik meerdere keren een liedje wil horen, dan zet ik hem op repeat via Listen On Repeat. Ook kun je daar lijsten maken die zich herhaaldelijk achter elkaar afspelen naar jouw keuze. Via YouTube maak ik ook afspeellijsten aan, maar dan moet je hem wel zelf weer herstarten wanneer je bij het einde bent.
Apps
Uiteraard luister ik ook naar muziek via YouTube op mijn telefoon. En daarnaast heb ik ook Spotify, waar ik ook vaak gebruik van maak. Ik heb alleen wel de gratis versie en krijg dus steeds irritante reclame tussendoor. Maar dat nemen we dan maar voor lief 😉 Ik gebruik het namelijk toch het minst vaak, wat misschien best gek klinkt. Maar ik maak nu eenmaal meer gebruik van mijn eigen gedownloade playlists 🙂
Op welke manier(en) luister jij muziek? 
Liefs, Demi ❤
Volg mij ook op Facebook, Twitter en Instagram (via de linkjes of kijk in de zijbalk)