Hey Creabea's,
Ik ben ontzettend dol op gamen, en vooral met racespellen. Ik heb nog een oude Xbox, en ik heb daar een spel tussen zitten wat echt mijn all time favorite is op het gebied van auto racespellen. De kans is groot dat jullie dit spel niet kennen, maar daar gaat vanaf vandaag verandering in komen 😉
Dit is hoe het spel er uit ziet. Het lijkt heel heftig, maar dat valt over het algemeen reuze mee. Het is een racespel, en je mag mensen van de weg afrijden tijdens een duellerend gevecht met je tegenstanders.
Linksboven in staat POS, dit betekent je positie. Het aantal tegenstanders staat er bij vermeld, en zo weet je hoe je ervoor staat. Rechtsboven in staat LAP, dat staat voor rondes. Er zijn gebieden die 1, 2 of 3 rondes hebben. Links beneden zie je NEAR MISS staan. Dat is één van de 4 handelingen waarmee je in het balkje daaronder BOOST kunt verdienen. Met deze BOOST kun je harder rijden.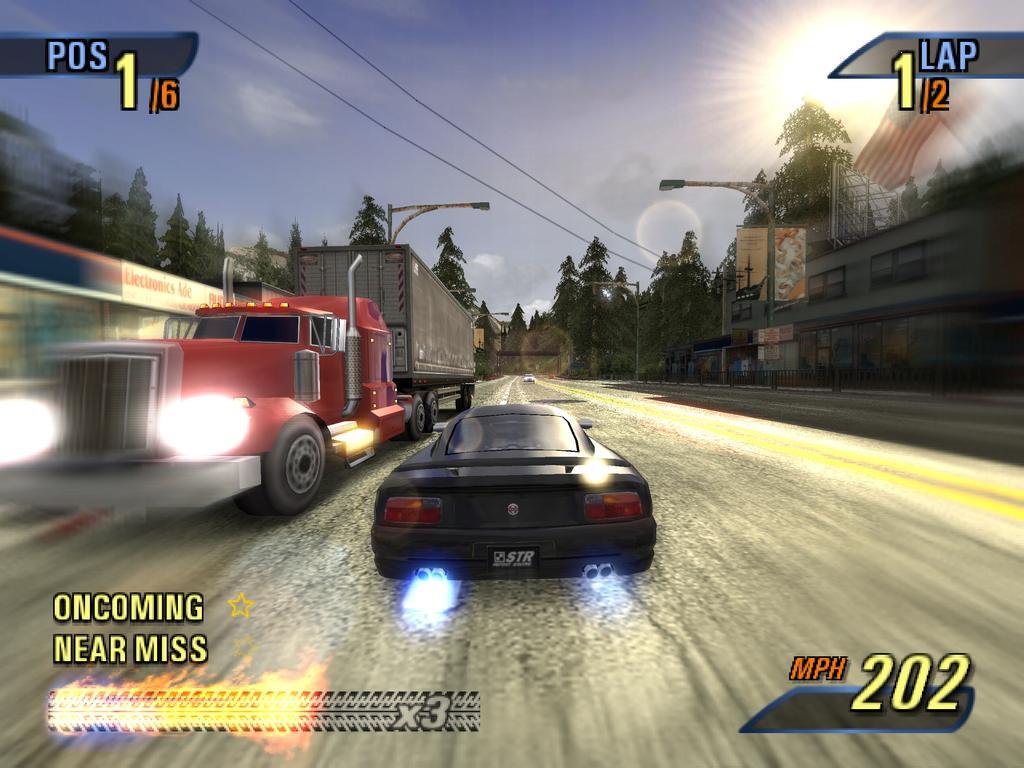 Hier zie je de BOOST balk beter. De blauwe uitstoten achter de auto zijn in dit geval de BOOST motoren. Rechts beneden zie je MPH staan, Miles Per Hour. Kort samengevat: Hoe hard je rijdt. BOOST kun je verdienen door te slippen, auto's te omzeilen, spook te rijden of door de lucht te vliegen.
Per Takedown of na een botsing kun je punten verdienen. Dit wordt steeds aangevuld bij je SCORE bovenin. Ook kun je met het aantal Takedowns dat je verricht tijdens een race je Takedown aantal vermeerderen en nieuwe auto's vrijspelen. Takedowns betekenen dat je tegen auto's aanbotst of ze van achteren raakt. Zij zullen hierna van de weg schieten en af zijn. Je hebt zelf een aantal levens. Op een gegeven moment is je auto total loss en is het spel voorbij.
Er is ook muziek aanwezig, en deze kun je zelf uitkiezen. Het zijn nummers die goed bij het spel passen. Een beetje rock, en vooral niet rustig. Ik vind de muziekkeuze meer dan goed.
Ik heb geen nadelen bij dit spel. Het is duidelijk, je kunt makkelijk mensen van de weg afkrijgen en punten verdienen en de locaties zijn duidelijk en gemakkelijk te berijden. Het enige wat ik toch jammer vindt is dat bepaalde gebieden afgeschermd zijn. Of je dit kunt vrijspelen is me niet helemaal duidelijk, maar daar ga ik wel van uit.
Ik geef Burnout 3 Takedown 4,5 van de 5 sterren
Ik hoop dat je het leuk vond
Speel of speelde jij dit ook? Of speel jij andere racespellen? Of juist helemaal niet?
Liefs, Demi ❤